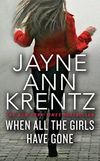 ​
This book is Krentz fast-moving suspense at its best.

An improbable pair find themselves searching for a serial rapist. There are plenty of clues so the reader can determine the identity of the bad guy. Since our hero and heroine don't have access to the information the reader does, we follow them as they search first for identity and then proof.

Character development moves the heroine from an insecure activity director at a senior citizens' residence to self-assured determined adversary. Our hero has the credentials for the job, but he comes with baggage. There is a subtle secondary romantic plot. But the book is first and foremost a suspense novel.

There is a delightful secondary character, Ethel Deeping, who adds color and humor to the book. Watch for her.

If you enjoy suspense novels with twisted turns and surprising conclusions, this is a must read.