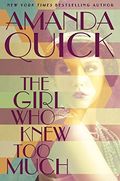 THE GIRL WHO KNEW TOO MUCH by Amanda Quick

This is a period piece that takes place the early 1930's. It is not the best book this author has ever written, but it isn't bad. On a scale of one to five, I would rate this at three and one-half.

It was slow getting started. I had difficulty keeping my mind in the correct time period. While reading, I would slip into contemporary mode, until some telltale would bring me back to the correct decade.

​Once the story finally gets started it is a maze of crimes, suspects, red herrings, and, of course, risk for the heroine. Hang in there and be prepared to slog through the first few chapters. Once the book takes off, it is fun to watch the characters develop.

​The romance is understated, there are no bodice ripping sex scenes, which is fine by me. My imagination is excellent, I don't need a play-by-play of what happens in the bedroom. I recommend this as a lazy afternoon read.

​I borrowed this book from my local public library.