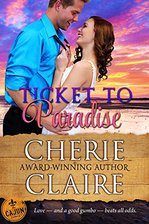 I loved this book. I didn't necessarily expect to because it was free, and all too often free books are second rate. Not so with Ticket to Paradise. I would gladly have paid for this book. The writing is professional. The story is engaging. The characters are well defined, with identifiable problems. Even the secondary characters actively contribute to the plot. And the plot is unique. I read hundreds of books, mostly romance, every year, and I've not come across one with this particular plot idea. Yes, there is sex, but based on much of what is out there, the sex scenes in this book are relatively mild. So, if you are looking for hot erotica, this is not the book for you.

After I read this book, I read the negative Amazon reviews to see what peoples' objections were. I was surprised at the reviewers who complained about all the swear words. The few I found in the book were so mild I couldn't believe the comments. Hell is a word that is found in the Bible, so is damn. Do these reviewers refuse to read the Bible because these words appear. And would the negative reviewers have preferred the word feces to the word shit? If these words offend you you probably shouldn't read my reviews.

Ticket to Paradise is a charming love story with a rating of mild on the chili pepper scale.