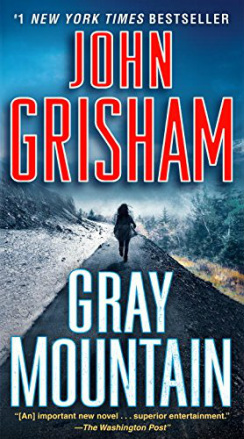 While it is not a romance novel, Gray Mountain by John Grisham, is a great read. In a departure from most of his prior novels, his protagonist is a lady lawyer, Samantha Kofer. As a result of the Wall Street meltdown in 2008 Samantha finds herself working as an unpaid intern in Appalachia. Grisham weaves his legal thriller story line into the life of his characters. Midway through the book he hits the reader right between the eyes with a plot changing event. So don't read ahead in this book. Start with chapter one and progress accordingly.

This is not a quick easy read. Grisham addresses some serious issues in this book. To understand the motivation of the characters, and to appreciate the plot line, one needs to read this book with attention.

This book has received a fair number of negative reviews. But I disagree with the naysayers. I personally enjoy Grisham's attention to court room proceedings as well as to the behind the scenes maneuvering by the principals. His research is impeccable.