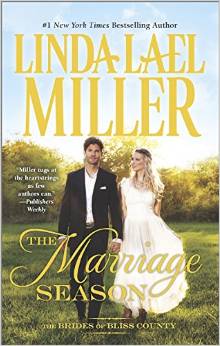 I have enjoyed all three books in this series. Each book stands alone and they may be read in any order. But reading first to last does provide continuity. The third book is a fitting conclusion to the story of three young women and their search for marital bliss.. There is a forth book that will be released in October titled Christmas in Mustang Creek

Three best of friends enter into a marriage pact. The series follows the path to HEA for each of the characters. The Marriage Season is the story of Becca (Bex) Stuart, a young woman who lost her fiance to the war in the Afghanistan and fears the prospect of falling in love again. She is convinced that history will repeat itself.

Becca meets Tate Calder, a widower with two young boys. He too is not anxious to pursue marriage because of history with his first wife. This book relates the rocky road to their personal HEA.

The Marriage Season is a Romance novel. If you don't like reading romances don't buy or read this book. But if you are a true romantic with a thirst for happy endings you will love this book.

TO ORDER FROM AMAZON GO TO http://www.amazon.com/Marriage-Season-Brides-Bliss-County/dp/037377933X/ref=sr_1_1?ie=UTF8&qid=1431458832&sr=8-1&keywords=the+marriage+season

If you wish to be alerted when a new review is published please go to the contact page and I will let you know when that happens.